Dorsey Carson, Jr.
Founding Partner
 – Present

Dorsey is currently a member of the Arkansas, Georgia, Mississippi, and Texas American Bar Associations, including the Forum on the Construction Industry, as well as the Federal Court of Claims, Associated Builders & Contractors, Association of General Contractors, and American Subcontractors Association.
His specialties are Economic Development, Construction Law, and Commercial Litigation
Dorsey handles matters involving construction, government contracts, economic development, banking and consumer finance, corporate freeze out, partnership disputes, international trade, open records, intellectual property, government affairs, and general commercial matters. As a Special Assistant Attorney General, he successfully recovered $7.5 million for the State of Mississippi, and acted as outside corporate counsel for the State on a $200 million economic development project.
Dorsey is an attorney for construction projects such as highways, public schools, manufacturing facilities, health laboratories, power plants, water plants, military barracks, landing strips, distribution centers, mass transit systems, industrial construction projects, commercial buildings, shopping center developments, condos, subdivision developments, and casinos. He serves as lead attorney in contracting and public bid and award protests, and in litigation involving payment and performance problems related to changes, changed conditions, delays, suspensions of work, termination of contracts, A/E liability, and insurance disputes.
In 2010, the Mississippi Business Journal recognized Dorsey as one of Mississippi's 50 Leaders in Law. Since 2010, Chambers USA has recognized Dorsey as a "Leader in their Field" in the area of Construction Litigation. In 2011, Dorsey was recognized as a Mid-South SuperLawyer "Rising Star." In 2012, Dorsey was selected as one of PORTICO Jackson's PORTICO 10, the top 10 up-and-coming lawyers in the Jackson area. Since 2013, Dorsey has been included in The Best Lawyers in America for his work in Construction Law. He was selected as a 2014 Mid-South SuperLawyer. Dorsey is a Partner member of the Truman National Security Project, and is an active participant in the White House Business Council. Dorsey has also served as a spokesperson and legal commentator in regional and national media outlets, including Court TV and CNN.
Before opening his own firm, Dorsey practiced in Jackson with Burr & Forman, LLP, Krebs Farley, PLLC, Mockbee Hall & Drake, PA, and Butler Snow and in Atlanta with Smith Currie & Hancock. Dorsey attended Mississippi State University where he earned his Bachelor of Arts, magna cum laude. He received his Juris Doctor from the University of Georgia, and served as Vice-President of the Student Bar Association and Articles Editor for the Georgia Journal of International & Comparative Law. Dorsey also attended the London Law Consortium, where he externed with Barrister Jerome Lynch.
Dorsey was drawn to the idea of starting a smaller firm because it allows him and fellow attorneys more opportunities to be creative, flexible and use cutting edge ideas in how they approach their cases, as well as the fim. He finds helping people, solving problems, and offering outside-of-the-box solutions the most gratifying parts of his job.
Dorsey has published the following manuals/articles:
"Capture the Imagination with Visualization: The Hottest Trend in Construction Scheduling and Change Order Analysis," ABA Construction Law Forum Midwinter Meeting, 2014 Construction Defect Litigation: From A to Z, 2013 Mississippi Construction Law Update, ABA Const. Forum, 2011-12, 2012-13 Georgia Construction Law Update, ABA Const. Forum, 2012-13 Federal Construction Law Update, ABA Const. Forum, 2010-11 "Getting Paid in a Tough Economy: Innovative Strategies and Techniques," ABA Const. Forum, 2010. "Challenges and Contractual Issues With Sub-Subcontractors," 2009 Mississippi Practitioner's Foreclosure Manual, 2009 "Contract Disputes," Inside the Minds: Contract Dispute Resolution, 2008 "Entering Into Construction Contracts and Subcontracts," Construction Law For Architects, Engineers, and Contractors, 2008 "Construction Delay Claims," 2006 "Mississippi Construction Law," State Public Construction Law, 2002 "Construction Claims in Georgia," 2002 "Mississippi: No Damages For Delay," 2001 "Construction Lien and Public Contract Bond Law," 2000-01 "Is Hot Weather An Excusable Delay?," 2001 "Pass Through Delay Claims," 1999 "Remembering Dean Rusk," 1996.
Both sets of Dorsey's grandparents were farmers; one also was a pipeline contractor for Alaska Pipeline. His mother has worked at the same church for 40 years, and his father lives south of the Peshoa, Louisiana border, where he is retired.
Along with wife Susan and daughter Hays, he enjoys traveling and staying "on the go from place to place," as well as music, art, food, and outdoor activities.
---
Eric Hatten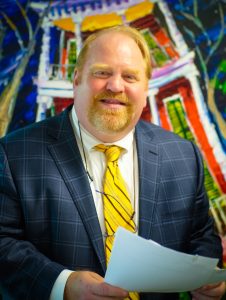 Eric has been practicing for 22 years in Federal and State Courts in Mississippi where he has been licensed since 1996. Eric earned his bachelor's degree in History, cum laude, from Millsaps College before entering and graduating from Mississippi College School of law, cum laude.
Eric's experience is in commercial litigation, where he has represented Fortune 50 companies, banks, and insurance companies in areas of law ranging from bond disputes to intellectual property matters. He has experience in insurance defense work and also has years of experience dealing with Qui Tam litigation stemming from relator claims under the False Claims Act.
---
Charles Granger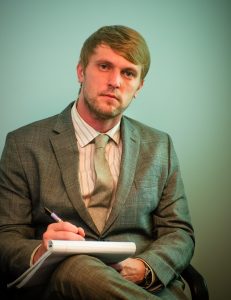 Chuck earned a Bachelor's degree in Political Science from Mississippi State University and a J.D. from the University of Virginia. His areas of expertise are primarily legal research and writing, with a concentration in construction and business law. 
He enjoys the camaraderie and collaboration of a smaller firm, and the familial vibe that comes from being able to gather everyone in one room to work and socialize. He finds that the most gratifying part of being a lawyer is the satisfaction of solving a problem for a client.
When he's not working on a case, Chuck loves to travel and is a fan of anything outdoors, especially hiking and biking. He also enjoys indulging in horror movies and sci-fi books.
Currently unattached, Chuck was born and raised in Mississippi. His entire family is from the South, mostly living in Alabama and Arkansas.
---
David Humphreys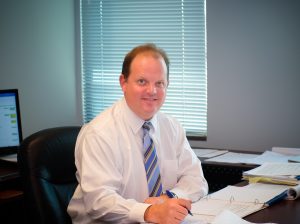 With nearly two decades of commercial law and litigation experience, David's legal expertise includes structuring and negotiating complex commercial transactions, regulatory compliance, insurance and risk management, and government relations.  Before joining the Carson Law Group, he worked as Chief Operating Officer and General Counsel at Capital Companies, served as a Partner at Gibbs Travis PLLC, and as a Business Attorney at Watson & Jones, PA. 
David earned his law degree from the University of Mississippi School of Law. He also holds Bachelor's degrees in both Economics and Business Administration and a Master's degree in Accounting, all from Rhodes College.
He enjoys working for a small firm because it provides the same level or better care as a large firm, but does so with more efficiency and flexibility. He finds immense gratification in helping clients resolve their commercial disputes the most efficient way possible.
He and wife Kim, an accountant, have two daughters: Meghan, a varsity tennis player at the University of North Alabama, and Claire, a dancer who attends high school in Madison. His favorite hobby is watching them enjoy their hobbies and traveling to their competitions. In his free time, he also enjoys golfing and watching Ole Miss sporting events, especially football.
---
Julie Noone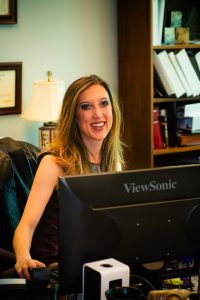 Julie's experience includes representing corporate clients in insurance defense and commercial litigation in state and federal court and courts of appeal, including class action and multi-district litigation. Julie graduated summa cum laude from Millsaps College and earned her Juris Doctorate from Vanderbilt University, where she was on the Dean's List and Moot Court Board. She holds a certificate from the Business Advantage Program of Millsaps College's Else School of Management. Julie is also a certified mediator and is a member of the Federal Bar Association and American Bar Association Forum on the Construction Industry.
Julie's current practice includes matters involving construction, government contracts, economic development, intellectual property, government affairs, property management, and general commercial matters. She has assisted as a Special Assistant Attorney General for the State of Mississippi and worked on contracting and public bid and award protests and insurance disputes.
Julie has been named as one of the Top 40 Under 40 by the Mississippi Business Journal and to its list of 50 Leading Businesswomen. She is a graduate of Leadership Greater Jackson. Julie serves on the Communications and Events Committee of the Women's Foundation of Mississippi and on the Communications Committee of St. Andrew's Episcopal Cathedral. She is a freelance writer for the Jackson Free Press, Boom Jackson, and Portico Jackson.
---
Aisha McKnight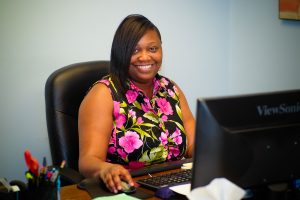 A native of Brooklyn, New York, Aisha McKnight has over twenty years of legal experience in both New York and Mississippi. Aisha has worked as a legal assistant at various law offices including Burr & Forman LLP from 2009 through 2015. Aisha's main area of focus is ensuring that the attorneys are covered within their jobs on a daily basis.
Aisha's favorite component of working in the legal field is working for and talking to the clients. She is known around the office for being a people person and working hard for the benefit of others. Aisha's main goal as a paralegal is to help individuals to feel comfortable in a situation that they may potentially deem to be difficult. To Aisha, small firm service large firm experience means working in a family orientated community and treating the clients as such, all while providing top notch legal work.
---
Shannon McMullan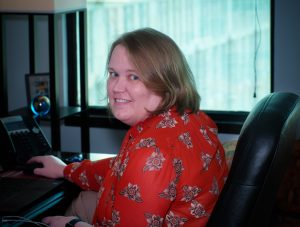 Shannon McMullan is a 2001 graduate of the Mississippi University for Women, where she received her B.A. in Political Science and Paralegal Studies. After college Shannon worked as a Legislative Liaison for the Mississippi Governor's Office until 2004. Shannon has over 15 years of legal experience during which she has served as a paralegal at Burr & Forman LLP where she worked for several years with Dorsey. Shannon has also worked for Copeland Cook Taylor & Bush, P.A. as well as Musgrove/Smith Law. Shannon's paralegal work consists of document production, document review, and EDiscovery.
Shannon is originally from the Reservoir area where she currently resides today. The idea of holding a job within the legal field was originally a backup plan for Shannon during her college years. It was not until Shannon began working as a paralegal that she recognized both her interest and talent in the legal field. Shannon says that she enjoys nothing more than finding the one specific document, like a needle in a haystack, and therefore turning the case into the client's favor. To Shannon, small first service large firm experience simply means receiving the best of both worlds.
---
Lindsay Krout Roberts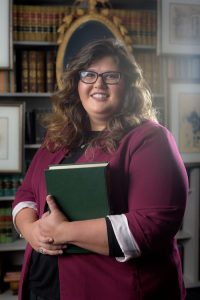 Lindsay is a graduate of the University of Mississippi with a Bachelor's degree in Public Policy Leadership from the Trent Lott Leadership Institute. During college, Lindsay interned with the Honorable Rick Crawford in the U.S. House of Representatives. Before earning her law degree, Lindsay worked as a project manager for several statewide political campaigns.
Lindsay earned her Juris Doctor from Mississippi College School of Law, where she graduated Magna Cum Laude. During law school, Lindsay served as the Internal Appellate Chair for the Mississippi College School of Law Moot Court Board, where she competed in Moot Court Competitions across the country, receiving two National Best Brief Awards, and was named to the National Order of Barristers. Lindsay also served as the Technical Articles Editor for the Mississippi College Law Review. Additionally, Lindsay participated in Mississippi's Bicentennial Ceremony, where she presented oral arguments as a representative of Mississippi College School of Law to Chief Judges and Justices from across the region, including Chief Justice John Roberts of the United States Supreme Court. Lindsay has also published an article entitled "Protecting Sincerely Held Religious Beliefs: Lessons from Mississippi's H.B. 1523" in the Mississippi College Law Review.
Specializing primarily in contract work and in litigating construction contracts, Lindsay also enjoys constitution law. She likes working for a smaller firm because it provides a family atmosphere where clients receive the benefit of a collaborative team effort.
Representing her clients to the best of her ability, seeing the finished product, and knowing that she helped her clients through a difficult situation are the most gratifying parts of practicing law for Lindsay. She also enjoys the challenge of finding a creative solution to a complex problem, doing legal research and developing thoughtful arguments on behalf of her clients.
Lindsay enjoys giving back to the legal community by serving as a Moot Court coach for the Mississippi College School of Law, where she coaches products liability competition teams and pre-trial litigation competition teams.
Lindsay and her husband, Ryan, have one daughter, Merrie Kate. They enjoy vacationing at Destin Beach and spending time with their extended family who live in the area.
---
Susan Carson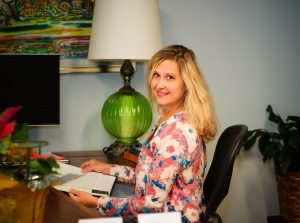 Susan H. Carson serves as Office Manager at the Carson Law Group, PLLC.  She received her B.S. degree from Mississippi State University in 1994 and her M.Ed. degree from the University of Georgia in 1996.  Susan was self-employed in the field of Assistive Technology after working as an Assistive Technology Specialist, Vocational Training Instructor, Vocational Rehabilitation Counselor for the Blind, and Disability Examiner with the Mississippi Department of Rehabilitation Services.  She also worked as a Corporate Training Specialist with Emory Healthcare and as a Vocational Evaluator at the Center for the Visually Impaired in Atlanta, Georgia.
Since opening the Carson Law Group, PLLC, with Dorsey in November 2013, Susan has been actively involved with office organization, IT, ediscovery, file management, billing, bookkeeping, purchasing, and marketing.
Susan is a Certified Rehabilitation Counselor (CRC) and holds a certification as an Assistive Technology Professional (ATP) from the Rehabilitation Engineering & Assistive Technology Society of North America.
2007 Humanitarian Award: MS Department of Rehabilitation Services
LEADRS 2003 Class: Leadership and Education in Rehabilitation Services
Junior League of Jackson; Fondren Presbyterian Church; Mississippi Industries for the Blind Foundation Board Member; VSA Mississippi Board Member/Secretary; Jackson Symphony League; Metro Jackson Chi Omega Alum